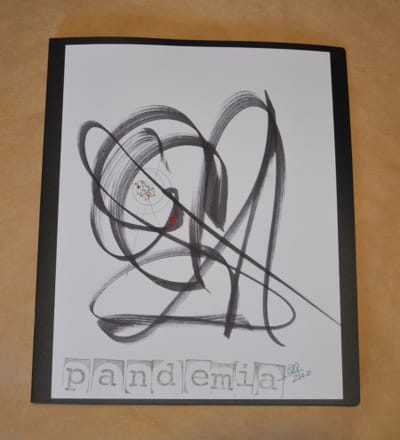 2020 was a hell of a year for all of us. This drawing series THE PANDEMIC SERIES/LA PANDEMIA is the artistic product of how the darkness of the pandemic affected me, Hilary, my dog and the few friends I still see. I don't know where this came from, but it came at a time when I am losing my ability to write by hand. But that reality has allowed me to use my hands in a different way – to explore shapes, patterns, colors, sizes, and all kinds of pens and markers. There are only going to be 200 unique pieces in this series. Each piece is numbered on the back and catalogued. Once you buy it, you have the one and only original. My hope is that by the end of January, I will no longer be doing these and that I will be doing something more bright and hopeful and full of love. I hope you can keep this as a memory to look back on and say: Yeah, 2020 was a hell of a year but we're still here. Each piece is done in different papers and sizes.

We love you and thank you for supporting art.

The artwork will be mailed to you with cardboard protection so they don't get bent in the process. Shipping costs $3 not included in the price of each piece, and if you're local they're available for pick up. If you live in DC and wish to purchase pieces and have them framed, I can do that for you but you must pick up. There is an additional cost for the frame. Please contact Quique directly via messenger on Facebook or at quique.aviles@gmail.com to discuss framing options. If you buy more than two, I will charge you $20 for the first two and $10 for every additional one.